Mobile SDK Engineer (React Native/Swift)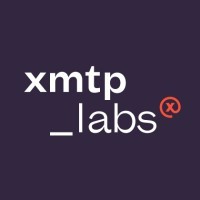 XMTP
Software Engineering
Remote
Posted on Thursday, June 15, 2023
About
At XMTP Labs, we're reimagining the future of decentralized, secure, and portable messaging. We believe that privacy is an inalienable and universal right. We're committed to creating a powerful communication protocol that is truly open to all. In our vision, users not only own and control their own identity and data, but also benefit economically from their participation, all while breaking free from single-entity control. Our mission at XMTP Labs is to build a secure, open, and decentralized communication protocol that connects creators, communities, applications, and users. If this mission speaks to you, let's build the future of messaging together.
We're backed by some of the best investors in tech and crypto: a16z Crypto, Offline Ventures, Sound Ventures, Distributed Global, Redpoint, IDEO CoLab and many more key ecosystem investors and operators. See the full list here.
Experience:
Minimum of 5 years of experience in mobile development.
Excellent communication and collaboration skills, ideally on open-source projects.
We're a small team working closely with each other.
Advanced proficiency in React Native app development is a must.
Experience building bridges between RN and SDKs written in other languages is a must.

Knowledge and experience working in Swift, Kotlin, Rust, or Flutter/Dart would be plusses.

Our core libraries are written in Rust; experience with it is yet another plus.
Familiarity with web3 development or knowledge of messaging technologies are both highly desirable.
Important note: We don't expect any candidate to have all of the skills we listed above. If you think you match some of them, please apply! As you do so, please try to help us understand which areas you think you could contribute to.
Responsibilities:
Make impactful contributions across a Rust/Swift/Kotlin/React Native SDK stack, depending on project requirements.
Collaborate with the team to prioritize and tackle the highest priority work.
Quickly identify and resolve blockers to ensure smooth developer integration.
Benefits
Generous and competitive compensation package
Salary range between $175-215k (depending on experience + location)
Remote-first environment with semi-yearly gatherings to connect IRL
Full paid Medical, Dental, Vision insurance
Parental Leave
IT Equipment and WFH setup
Monthly Wellness and Lifestyle stipend
Personal assistant
Flexible vacation (with minimum requirements to ensure rest and time-off to pursue your passions outside of work)
And much more!
Culture
We think of ourselves as a "grown-up" startup—building a company that's fair, equitable, and rewarding for everyone to work at, with an emphasis on having fun while building an ambitious project.
Joining XMTP Labs today represents not just an opportunity to play a key role in building an essential part of the next web, but also in establishing the core DNA of the company.
Here's an inside look at XMTP and some of the frequently asked questions about our culture, answered by one of our co-founders and core team members.
XMTP, Inc. is an equal opportunity employer and is committed to building an inclusive team with a variety of backgrounds, experiences, and skills. We value diversity at our company and do not discriminate on the basis of race, religion, color, national origin, gender, sexual orientation, age, marital status, veteran status, or disability status. Please notify your recruiter of any disabilities or time preferences based off your current location and time zone.