Head of Partner Sales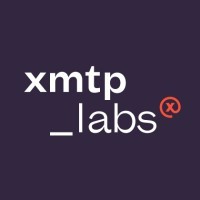 XMTP
Sales & Business Development
Remote
Posted on Tuesday, July 11, 2023
About:
At XMTP Labs, we're reimagining the future of decentralized, secure, and portable messaging. We believe that privacy is an inalienable and universal right.
We're committed to creating a powerful communication protocol that is truly open to all. In our vision, users not only own and control their own identity and data, but also benefit economically from their participation, all while breaking free from single-entity control. Our mission at XMTP Labs is to build a secure, open, and decentralized communication protocol that connects creators, communities, applications, and users. If this mission speaks to you, let's build the future of messaging together.
We're backed by some of the best investors in tech and crypto: a16z Crypto, Offline Ventures, Sound Ventures, Distributed Global, Redpoint, IDEO CoLab and many more key ecosystem investors and operators. See the full list here.
As Head of Partner Sales, you'll build and nurture relationships with some of the most influential and innovative partners in Web3 to drive integration, adoption, and value for the entire ecosystem. You will help execute our strategy, own and grow key partner relationships, and collaborate with internal and external stakeholders to generate measurable impact. Your success will also be closely linked to your ability to work cross functionally with Product, Engineering and Growth to drive results.
The ideal candidate is an experienced sales leader with a proven track record of consistently achieving sales quotas through focused efforts and dedication. You will be responsible for identifying and influencing decision-makers, bringing strategic partnerships to life, and demonstrating the value of XMTP to our partners. Through your efforts, you will be able to identify success metrics and milestones and drive the team towards achieving them.
Key Responsibilities:
New Business Generation: Identify, pursue and develop opportunities for critical partners to integrate XMTP, taking them from idea to integration.
Strategy Execution: Implement our strategy through impactful partnerships that drive results.
GTM Process: You will develop and manage the operational processes around our sales motions, ensuring we are organized and building a repeatable motion.
Relationship Ownership: Nurture high-priority partner relationships from initiation to sustained growth.
Strategic Initiatives: Identify, initiate, and lead strategic opportunities with key partners, collaborating with cross-functional teams.
Product Inbound/Outbound: Lead efforts to understand partner needs, support integration, and drive adoption and growth.
Planning: Scope, design, and resource plans for key initiatives and partner development.
Qualifications and Skills:
Seasoned Sales Leader: 10+ years of strategic sales and experience managing key stakeholder relationships.
Proven Track Record: Demonstrated success in managing complex partner relationships, product integrations, and projects with measurable impact.
Technical Acumen: Ability to understand highly technical products, working with partners to develop tailored solutions.
Influential Communication: Effective communication and influencing skills, especially at leadership levels.
Analytical Proficiency: Quantitative and qualitative analytical skills, making data-driven decisions.
Operational Expertise: Ability to organize and systematize go to market efforts to maintain velocity and momentum and create transparency with the team.
Crypto and Web3 Knowledge: Strongly preferred, but not mandatory. An understanding of the crypto and web3 space is a plus.
Who we are
We set out to design a modern organization from the start—one that's global, remote, and asynchronous-by-default.
We think of ourselves as a "grown-up" startup—building a company that's fair, equitable, and rewarding for everyone to work at, with an emphasis on having fun while building an ambitious project.
Our team has decades of experience in building companies, but we're looking for more diverse experiences to add to the founding team. Joining XMTP Labs today represents not just an opportunity to play a key role in building an essential part of the next web, but also in establishing the core DNA of the company.
Here's an inside look at XMTP and some of the frequently asked questions about our culture, answered by one of our co-founders and core team members.
About XMTP, Inc.
XMTP, Inc. was co-founded by Matt Galligan and Shane Mac, and is headquartered on the web. We have an excellent benefits package that includes parental leave, competitive pay, an equipment and home office allowance that refreshes yearly, monthly lifestyle stipend, as well as a personal assistant, and financial advisor. For U.S.-based team members we also provide access to FSA, 401K, and fully paid high quality medical, dental, and vision insurance for you and your family.
We're backed by some of the best investors in tech and crypto: a16z Crypto Fund, Offline Ventures, Sound Ventures, Distributed Global, Redpoint, IDEO CoLab and many more key ecosystem investors and operators. See the full list here.
XMTP, Inc. is an equal opportunity employer. We value diversity at our company and do not discriminate on the basis of race, religion, color, national origin, gender, sexual orientation, age, marital status, veteran status, or disability status.