Head of Legal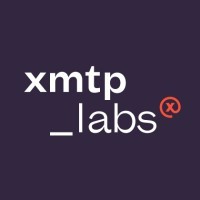 XMTP
Legal
Remote
Posted on Tuesday, October 3, 2023
At XMTP Labs, we're reimagining the future of decentralized, secure, and portable messaging. We believe that privacy is an inalienable and universal right. Communication on today's internet is ensnared by walled gardens, plagued by scams, and monopolized by corporations that surveil and monetize user data.
This has to change.
We're committed to creating a powerful communication protocol that is truly open to all. In our vision, users not only own and control their own identity and data, but also benefit economically from their participation, all while breaking free from single-entity control.Our mission at XMTP Labs is to build a secure, open, and decentralized communication protocol that connects creators, communities, applications, and users. If this mission speaks to you, let's build the future of messaging together.
We're backed by some of the best investors in tech and crypto: a16z Crypto, Offline Ventures, Sound Ventures, Distributed Global, Redpoint, IDEO CoLab and many more key ecosystem investors and operators. See the full list here.
As the General Counsel / Head of Legal at XMTP Labs, you are a corporate generalist and web3 specialist. You have exposure across the areas of securities/tokenomics, privacy & encryption, decentralization and DAO formation, GDPR, the dynamic web3 regulatory landscape at a global level, with deep expertise in at least 1-2 of these areas. You will work closely as a partner to our leadership team alongside outside counsel, serving as a guide for operational & strategic decision making as we grow the company and build the protocol.
Responsibilities:
Legal Strategy and Leadership:

Develop and implement a legal strategy and provide guidance aligned with the company's objectives.

Compliance and Documentation:

Oversee internal compliance efforts, including employment agreements, equity grants, and other critical documentation.
Ensure compliance with evolving regulations and industry best practices.

Web3 Expertise:

Utilize your deep understanding of the Web3 ecosystem, blockchain technology, and decentralized applications to guide legal decisions.

Tokenomics and DAO Formation:

Offer expert guidance on tokenomics and decentralized autonomous organization (DAO) formation.

Dynamic Regulatory Landscape:

Stay updated on the ever-changing regulatory environment, especially in the context of cryptocurrencies, blockchain, and decentralized applications.
Develop strategies to navigate global regulatory challenges effectively.

Entity Management:

Oversee and manage for-profit and nonprofit entity structures, ensuring that both operate in compliance with applicable laws and regulations.
Work collaboratively with internal departments to establish governance frameworks, manage risks, and handle legal considerations specific to each entity type.

Privacy and Encryption:

Provide counsel on privacy and encryption matters, ensuring compliance with data protection laws.
Implement robust data privacy policies and procedures.

GDPR Compliance:

Ensure compliance with GDPR and other international data protection regulations.

Partnership and Vendor Agreements:

Collaborate closely with the Go to Market organization, offering legal support for partnership agreements and vendor contracts.
Negotiate, draft, and review agreements to safeguard the company's interests.
Experience:
Juris Doctor (JD) degree from an accredited law school.
Licensed to practice law in the relevant jurisdiction(s).
Minimum of 10-12 years of legal experience.
Expertise in at least one or more areas of law relevant to our operations, like privacy and security, tokenomics, DAO formation, GDPR, etc.,.
Strong analytical and problem-solving skills.
Excellent written and verbal communication skills.
Ability to work independently and collaboratively within a team.
Strong organizational skills, with the capacity to manage multiple tasks and deadlines.
High level of professionalism, integrity, and discretion.
Experience in the dynamic web3 space.
Familiarity with legal issues and regulations specific to our industry.
Experience working with or managing outside counsel.
Benefits
Generous and competitive compensation and equity package
Salary range between $230-300k range (depending on experience + location)
Remote-first environment with semi-yearly gatherings to connect IRL
Fully paid Medical, Dental, Vision insurance
Parental Leave
IT Equipment and WFH setup
Monthly Wellness and Lifestyle stipend
Personal assistant
Flexible vacation (with minimum requirements to ensure rest and time-off to pursue your passions outside of work)
And much more!
Culture
We think of ourselves as a "grown-up" startup—building a company that's fair, equitable, and rewarding for everyone to work at, with an emphasis on having fun while building an ambitious project.
Joining XMTP Labs today represents not just an opportunity to play a key role in building an essential part of the next web, but also in establishing the core DNA of the company.
Here's an inside look at XMTP and some of the frequently asked questions about our culture, answered by one of our co-founders and core team members.
XMTP, Inc. is an equal opportunity employer and is committed to building an inclusive team with a variety of backgrounds, experiences, and skills. We value diversity at our company and do not discriminate on the basis of race, religion, color, national origin, gender, sexual orientation, age, marital status, veteran status, or disability status. Please notify your recruiter of any disabilities or time preferences based off your current location and time zone.